Size
Price
Savings
Quantity

Packet

$4.49

1 Ounce

$13.69

1/4 Pound

$32.59
41% Savings

1 Pound

$79.79
64% Savings

5 Pounds

$265.59

($3.31/ounce)

76% Savings
The go-to daisy for a kid's garden
Each Blossom is Unique!
North American Native Wildflower
Prefers full sun exposure
View full details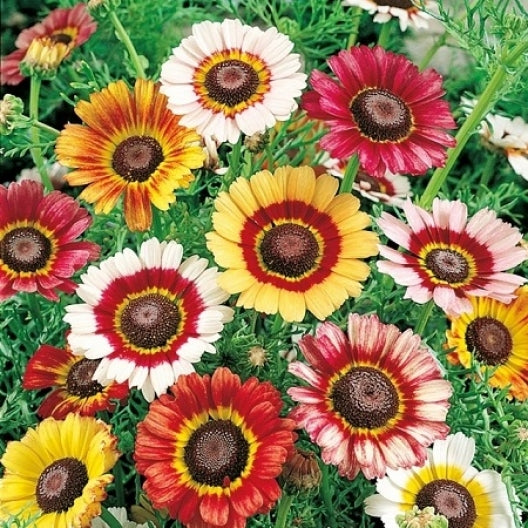 Shipping Schedule
Pre-ordered Bulbs: Pre-orders will not ship immediately, but they will be delivered at the ideal time for planting in your area. Spring pre-orders are placed any time before March 1. Fall pre-orders are placed any time before September 1. For customers who order bulbs in advance, please see the shipping schedule below. Orders containing both seeds and bulbs may be split into multiple shipments.
Pre-Ordered Spring Bulbs & Perennials
Shipping Begins
Zones 9 - 12 
Early to Mid March
Zone 8
Mid to Late March
Zone 7
Late March to Early April
Zone 6 
Early to Mid April
Zone 5
Early to Mid May
Zones 2 - 4
Mid to Late May
In-season orders ship immediately at the time of purchase to all zones until inventory is depleted.
| Saffron Crocus & Bearded Iris | Shipping Begins |
| --- | --- |
| All Zones | Late August |
 Pre-Ordered Fall Bulbs
Shipping Begins
Zones 2 - 5
Mid to Late September
Zone 6
Late September
Zone 7
Late September to Early October
Zone 8 - 12
Early to Mid October
In-season orders ship immediately at the time of purchase to all zones until inventory is depleted.
Pre-Ordered Fall Perennials*
Shipping Begins
All Zones
Mid October
*Amaryllis Bulbs, Hosta Roots, Lily Bulbs, Papaver Roots, Paperwhite Bulbs, Peony Roots & Siberian Iris Roots
Multiple Ship Dates
Your credit card will be charged for the full amount of your order at the time your order is submitted, regardless of the shipping time for your items. If your order requires multiple shipping dates, you will never be charged more than once for shipping charges. This allows us to ship your non-seasonal items to you as soon as possible, as well as allocate our seasonal product for your order.
For example, a customer places an order in February consisting of 5 Pounds of Wildflower Mix and 50 Darwin Hybrid Tulip Bulbs. The order would be charged in full upon submission, the seed would be shipped immediately, and the bulbs would be shipped at the optimal time in the autumn based on the customer's zip code.
About

About Daisy Seeds - Painted

Chrysanthemum carinatum

Also known as

Tricolor Daisy

Painted daisies are not your average daisy! Painted Daisy Seeds produce 3 inch flowers in bright shades of yellow, red and white which have rings around the center in mahogany, orange, scarlet or rust. The unique Painted Daisies are sure to impress all who visit your garden or stroll through your wildflower meadow.
Planting

Information

Planting Daisy Seeds - Painted

Coverage

| Amount | Avg Seed Count | Recommended Coverage |
| --- | --- | --- |
| Packet | 363 | Up to 80 Sq. Ft |
| 1 Ounce | 17,167 | Up to 625 Sq. Ft |
| 1/4 Pound | 68,668 | Up to 2,500 Sq. Ft |
| 1 Pound | 274,672 | Up to 10,000 Sq. Ft |
| 5 Pounds | 1,373,360 | Up to 1.25 Acres |

Companion

s

Plants

Companion Plants for Daisy Seeds - Painted
Choosing a selection results in a full page refresh.